Monitor Arms are one of the trending PC Accessories nowadays. It helps not only in small places but also to hold dual or even triple monitors.
So it might be a great option for you if you're a PC or computer geek or have to work longer on your PC.
But, Are you confused about whether you should buy Monitor's arms or skip them? If yes, then here I've discussed in detail when you should purchase a monitor arm and when you should skip it. So let's check.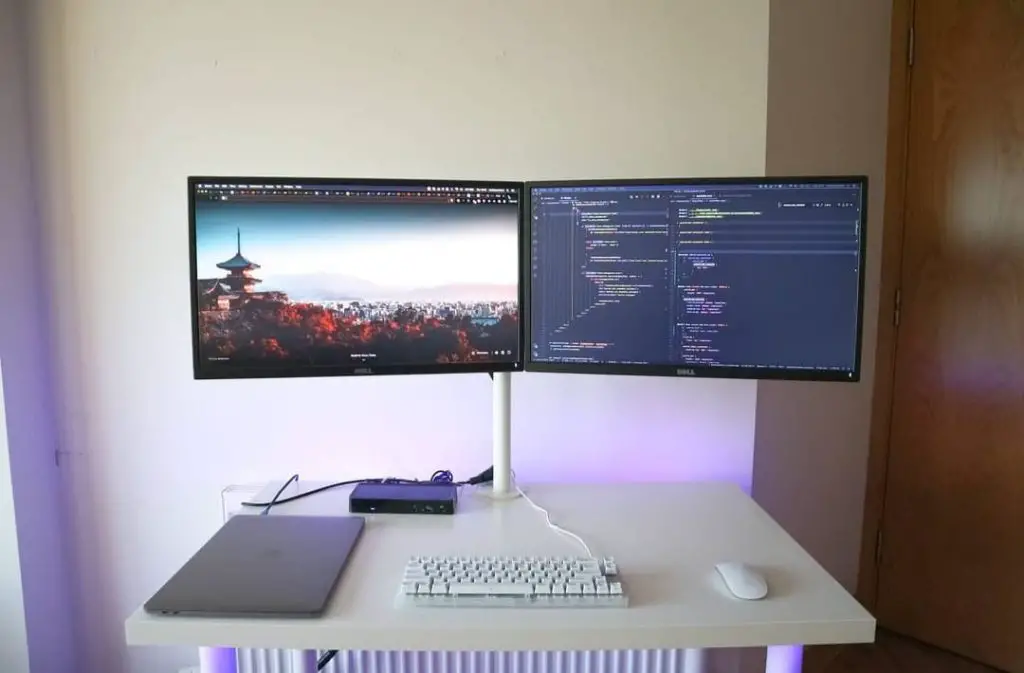 So, Are Monitor Arms Worth It?
If you primarily work on your desk and want to have a neat & clean desk all the time, or if you need more space on your desk, then Monitor Arms can be a great option. Secondly, if you have a dual or triple monitor setup, it would help you to organize everything. Finally, it's great for ergonomics.
Also, Monitor's arms let you adjust the height, which will be another benefit you can get with a monitor arm. It is beneficial if you continually work on your PC and want to adjust according to your needs.
# The Pros of Using a Monitor Arm
There are many benefits of using a monitor arm; whether you're a gamer, streamer, or work from home, it can be an excellent option for you. So let's see the advantages.
1. Takes Less Space
If you think your desk is often quite messy or need more space on your desk to have your other accessories and stuff, then the monitor arm can help you.
The monitor arm is connected to your table back and will not take your desk. Thus, you'll have a lot of free space to keep your other essential things.
Also, you may find the Monitor stand takes a lot of space on your desk, which is not the case with Monitor Arms. So it will save a lot of desk space for you.
Having a neat and clean desk is also perfect, which can definitely increase your productivity. Also, you don't have to clean your desk every day after work.
2. Flexibility & Adjustment
This is one of the vital points for which you can change your mind and buy a monitor arm.
With a monitor arm, you can have great Flexibility. You can position your monitor at any viewing angle, bringing it close or pushing it back to make it a bit far from you.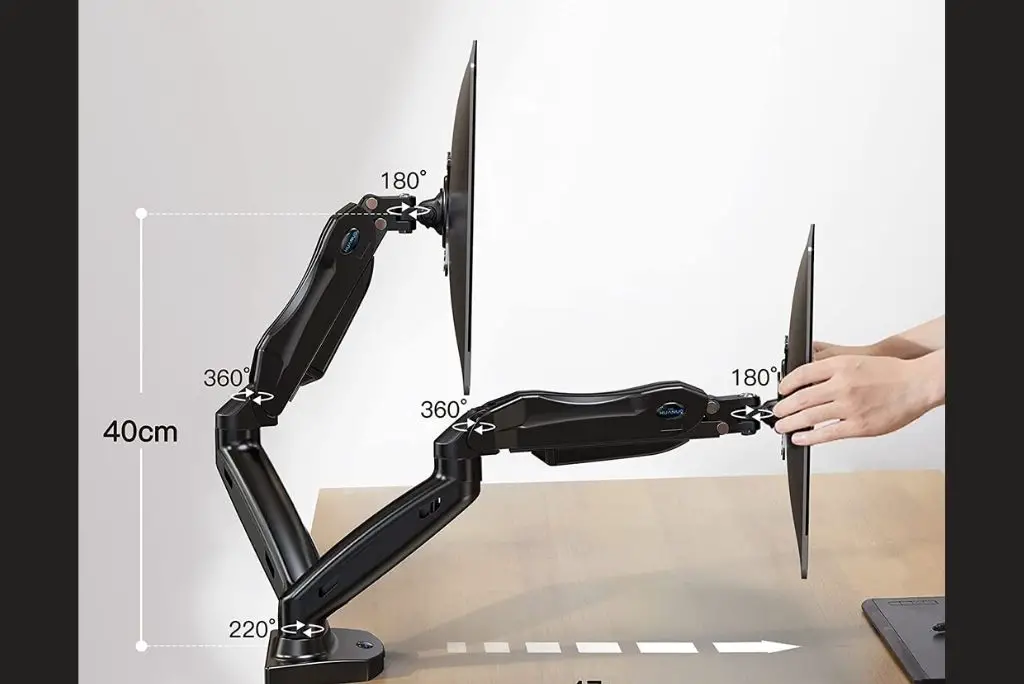 Not only the position adjustment, but you will also have orientation flexibility. You can use your monitor in portrait view to boosting your productivity.
Almost every monitor [Windows or iOS] has the functionality to make it a vertical view; you just have to do a quick setting, which you can check on google.
3. Secure than Stand
You may think that arms might not be that much of secure on your desk, but it is entirely wrong.
A monitor arm is more secure on your table or desk than a monitor stand. You can check by shaking a monitor that is fixed with a stand.
But, it is not the case with the Monitor arm; it is fixed to your desk firmly, whether by clamp or grommet mount. Both the methods are super awesome to hold your monitor with your desk.
So don't worry about unnecessary shakes from you or any other person in your family or friends.
4. Great for Ergonomics
Nowadays, ergonomics are on-trend, and people are curious more about their health as if we are fit, we can be more productive.
Ergonomics is a great method to apply in your work environment to stay productive as well as physically fit.
The monitor arms are also Ergonomics; it gives you the viewing angle that suits your current physical condition. So, if you're a bit tired, you can bring it to a close or in a suitable position.
Similarly, if you're watching, reading, or writing something, you can adjust according to your suitable position to be more productive.
5. Increase Your Productivity
As mentioned before, Monitor arms are great for ergonomics, increasing your overall productivity.
Whether scrolling through social media, reading, working or watching movies. You can adjust your monitor arm according to your needs and your sitting position on your chair.
You should also look at your chair, as it should also be an ergonomic chair rather than a normal one to increase productivity.
# The Cons of Using a Monitor Arm
As every action has a reaction, things with advantages will also have disadvantages. Similar to the monitor arm, there are some substantial downsides to using a Monitor arm, so let's check them out.
1. Monitor can Bounce while Typing
Not always the case, but often with few monitor arms, you can have the bounce issue. When you type, the monitors can bounce a bit, which is messy.
I've seen the problem is worse with an extended monitor arm; the shortest the monitor arm is, the less it will shake while typing.
That's why you should always look for a better monitor arm rather than cheap ones. Here is a good arm you can check on Amazon.
Still, if you have a bounce issue, there is a solution. You can use a wall mount available on amazon to fix the bouncing problem while typing.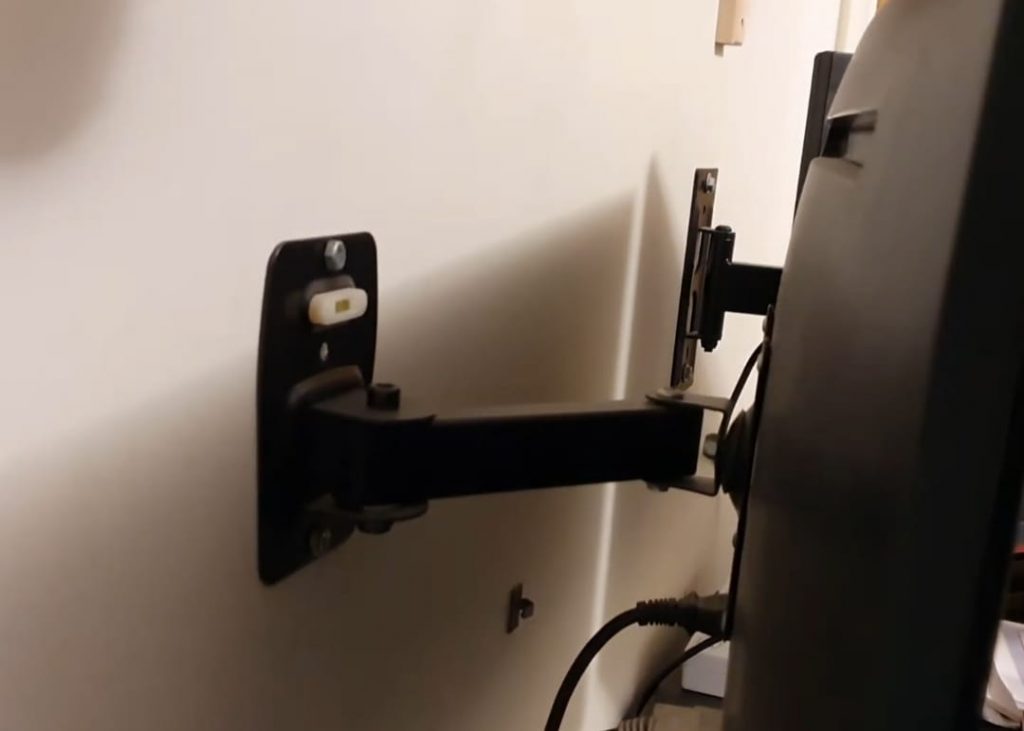 But, to use the wall mount, it is obvious you have to have a fixed place for your desk or work, so you can't move.
2. VESA Compliant
In order to install your monitor arm with your monitor, your monitor should have screw holes at the back, or it should be VESA compliant.
Although most monitors nowadays are VESA compliant, if your monitor is quite outdated and doesn't have the holes for screws, it can't be installed with a monitor arm.
Many DELL and Apple Monitors don't come with the screw holes. So I want to ensure you have the screw holes to install with your monitor arm before making the purchase.
3. Monitor Height or Overall Dimension
If you're setting more than one monitor with your monitor arm, you must be very careful about your monitor's height and dimension before buying a monitor arm.
If one of your monitors is bigger than usual, both monitors can get stuck. Thus, the dual-monitor will be unable to fit on the monitor arm.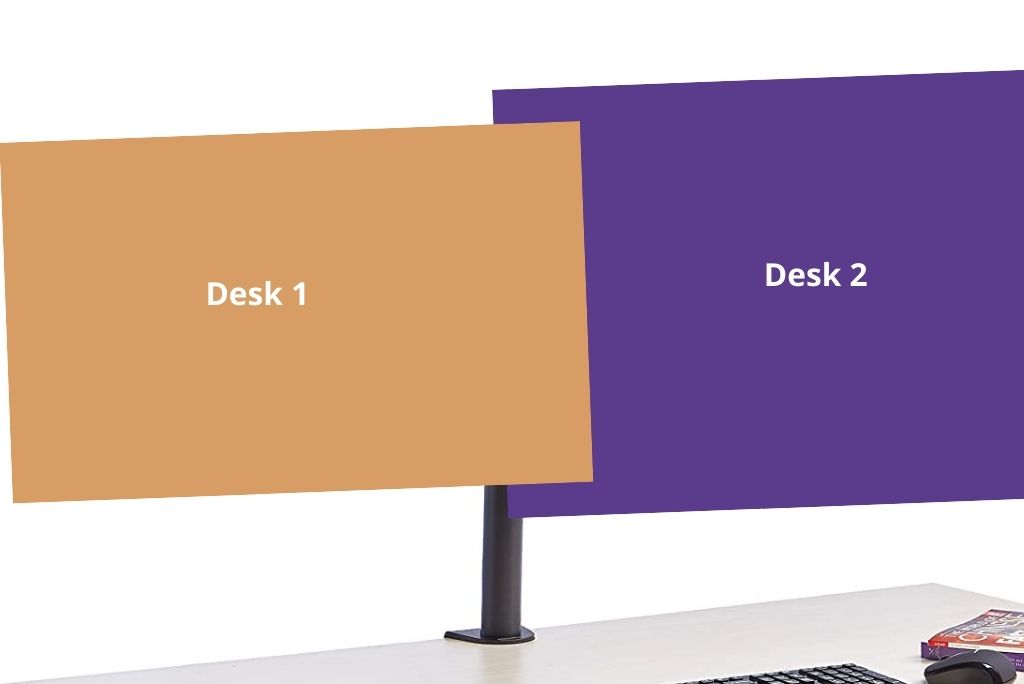 Most monitor arms can adjust the height or dimension of both of your monitors, but in some cases, you can have difficulty installing your dual monitor.
So before purchasing, check the dimension of your monitor and what dimension the monitor arm you're purchasing supports.
Thus, make sure you should have enough space between both of your monitors.
4. Monitor Weight
Monitor weight is also crucial to check before getting a monitor arm. If your monitor is a bit extra heavy, then after installing the monitor with your arm, it could be tilted.
That's why before buying a monitor arm, you should check the weight capability of that monitor arm. You can check on the box or get the info from the product description if you're buying online.
Although, you may eliminate this issue with a good quality monitor arm. That's why again, I'm mentioning going for a good monitor arm rather than a cheap one.
5. Wire Management
Wire management is another issue with the monitor arm. The backside of your desk may look messy if the wire management is not that good.
Most popular monitor arms come with a good wire management system, but you may not find this system in a few products.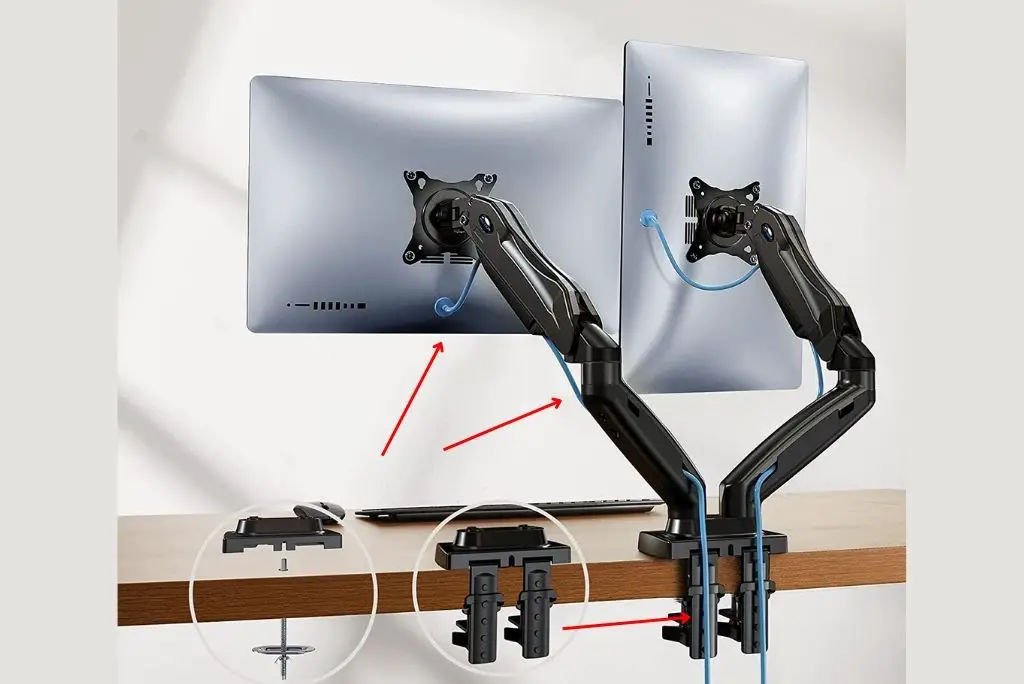 So it is another key thing to consider while buying a monitor arm. Because it is a significant and messy problem to manage all the wires.
6. Mounting Options
Although, it is not a big deal or issue. But, to give you an idea, I'm discussing the mounting options on Monitor arms.
There are two types of mounting options for monitor arms provided; one is Clamp Mount, and the second one is Grommet Mount.
If you've chosen a monitor arm with Clamp Mount, you can mount it with your table or desk by tightening the clamp, and you're finished.
But, if the monitor arm has Grommet Mount, you must make a hole in your desk and mount the whole arm.
The downside is most of the arms come with only one option; no monitor arms provide you both the mounting options. So you have to choose carefully the options that suit you the best.
7. Space Behind Desk
Last but not least, you will need some space behind your desk to adjust the monitor arm in a great way. However, you may have a little problem if you don't have space behind your desk.
So this is not a big issue, you can always make some space. But, as an advisor, I suggest you have some space behind your desk to use the full flexibility of your monitor arm.
---
I hope you understand all the points; thus, having a monitor arm can benefit you in various ways. But, there are some minor downsides to using which you have to take care of.
But, using the monitor arm will make you more productive, and you'll have more effective work. So, now you know if it is worth it or not?
If you still have further questions, look at the faqs below to clear all your doubts and make a strong and great decision before purchasing anything.
Are Monitor Arms Stable?
Monitor arms can be a little swaggy if the quality of your monitor arm is not good or the length is quite long. The short the arm is, the less swaggy it will be. Also, a good-quality monitor arm can give you stable performance while typing.
So make sure you have a good monitor arm, and try to shorten it. Also, you can tight or adjust the joint to make it stable.
Do Monitor Arms Damage the Table?
If you have a thin table or desk, it may damage your table in the long term. It depends on your table; how strong is it? Rather than monitor arms, have Clamp and Grommet Mounting options; both are pretty good and will not damage your table.
So don't worry, make sure your table is not thin and the quality is good. But, in most cases, I've seen good results.
How Long Do Monitor Arms Last?
A Monitor arm can last from a few months to more than 10 or 15 years. It depends on the quality of your monitor arm.
Poor quality monitors can break within a few months, whereas good quality monitor arms can last more than 10 years.
I've been using a single monitor arm for 3 years, and there is not even a single issue. The lifespan of your monitor arm also depends on how you treat it.
Is a Monitor Arm Worth it for Gaming?
If you are a gamer and thinking of having a Monitor arm, you're in the right direction. YES! a monitor arm can be an excellent option for gaming as there are multiple benefits of using a monitor arm. Here I've discussed some of them.
More Space on your Desk: To keep other necessary items on your desk while gaming is a blessing; you may need various stuff to keep on your gaming desk to perform better. It will also help not to have a messy desk.
Position Adjustment: This could be a blessing if you're a gamer. While gaming, you may often get the wide screen and then expected. For widescreen graphics, you can bring your monitor screen close to you; for normal graphics, you can push your monitor backward.
Ergonomics: You can always rotate your screen up to 180 degrees, and you have great flexibility, which makes it great for ergonomics, and gaming; it is one of the important aspects nowadays.
Secure than Normal Stands
Increase Productivity
So these are the key points to consider while buying a monitor arm to use for your gaming. It is also great for streaming purposes. I hope you now don't have any doubt on your mind.
Are Monitor Arms Safe?
YES! Monitor Arms are 100% safe to use. If you think it is unsafe and your monitor can easily come out from your arm, then it is not the case. Monitor Arms are safer than normal monitor stands.
First, monitor arms are made with good metal, and secondly, their mounting options are also great. Most of the Monitor Arms' joints are also designed in a great way to protect your monitor.
Also, the companies had many tests before sending their monitor arms to markets. So, you should not be worried.
Although you might have issues with a cheap monitor arm, I always suggest buying a good monitor arm.
Are Monitor Arms Universal?
The answer to your question do monitor arms work with any monitor or do monitor arms universal? Is YES! You can install any monitor arms to your Monitor. But, your Monitor might not fit with any Monitor arms.
In order to add a monitor arm to your Monitor, you should have a VESA Compliant monitor. Because in all monitors, you might not be able to find the screw holes at the back.
So if your Monitor has the screw holes, it can be connected with any Monitor Arms.
Do Monitor Arms Come with Screws?
Yes! Monitor Arms come with screws; you don't have to buy them mainly. Most monitor arms use M4 x 10 mm or M4 x 12 mm screws.
You have to use 4 to 8 screws to mount your monitor securely with your monitor arm. Different companies offer a few extra screws as well.
If you lost your screws, you could buy them from a local store or online.
Why Are Monitor Arms So Expensive?
Monitors arms can be expensive depending on the size, brand, quality, demand, and supply. You can find cheap monitor arms as well as expensive monitor arms. The price can start from $25 to $1000. It should be costly because it's made with high-quality metal, but it should not be too expensive.
The companies have to make sure your monitor is safe and lasts long; for this reason, they use strong metal to produce the monitor arms; thus, it can be pretty expensive.