Modern technology provides us with endless benefits which we would not have thought possible. The wireless features of today's devices add to their convenience.
The hassle of an unorganized desk and a messy workspace is now a thing of the past. With a wire-free device, make your work effortless. The different types of wireless keyboards and Mouse and varied features allow customers to select from a wide range of choices freely.
The sleek and ultra-slim keyboards available today have been tailor-made for comfortable use. Simplicity and style can be found simultaneously with features like wrist or palm rest and island key designs. Today, most keyboards are equipped with a number lock, or caps lock light.
List of 5 Modern Keyboards With Caps Lock Light
Here I've listed Keywords that have Caps Lock Indicators. So if you're also looking for that, then check out these. You can choose between these Top 3 items if you're in a hurry.
---
The Logitech MK345 is a black, battery-powered, wireless keyboard with a right-handed mouse. It has a palm rest that maximizes comfort and ensures a smooth typing flow.
The spill-resistant design protects the keyboard from any liquid spillage. The mouse's hand-friendly outline aids in more effortless movement and navigation.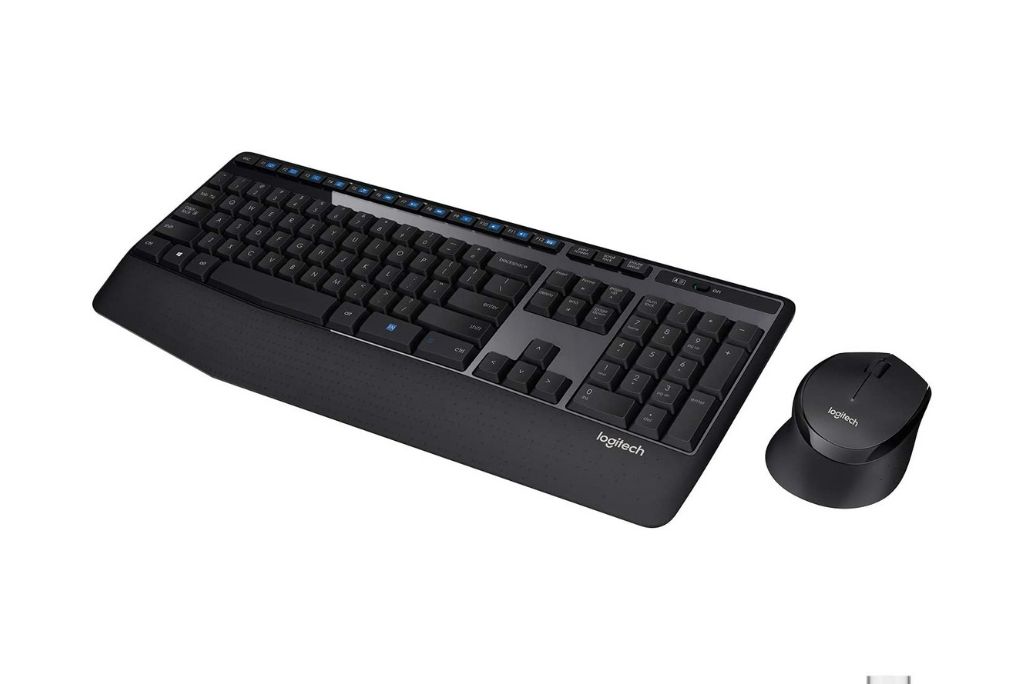 A wireless connection of 2.4GHz provides the same speed as a wired one without the problems of entangled wires and messy desks.
It has a range of 33 feet which adds to its glowing characteristics. The battery life of both the keyboard and the mouse is commendable.
There is no need to change the batteries often, as it provides 3 years of battery life for the keyboard and 18 months for the mouse. This set is compatible with Windows 10, 11, and Chrome operating systems.
Pros
It has legs for back support and can be adjusted to two heights.
It has a caps lock light to indicate whether it is switched on or off.
It only needs one USB to connect both the keyboard and the mouse.
Cons
It does not have back LED lighting.
It does not have a number lock light.
Not compatible with versions before Windows.
---
The state-of-the-art X9 Performance Ergonomic Black wireless keyboard is all one needs for a comfortable work environment. It adds to your comfort with wrist rest characteristics and an adjustable kickstand.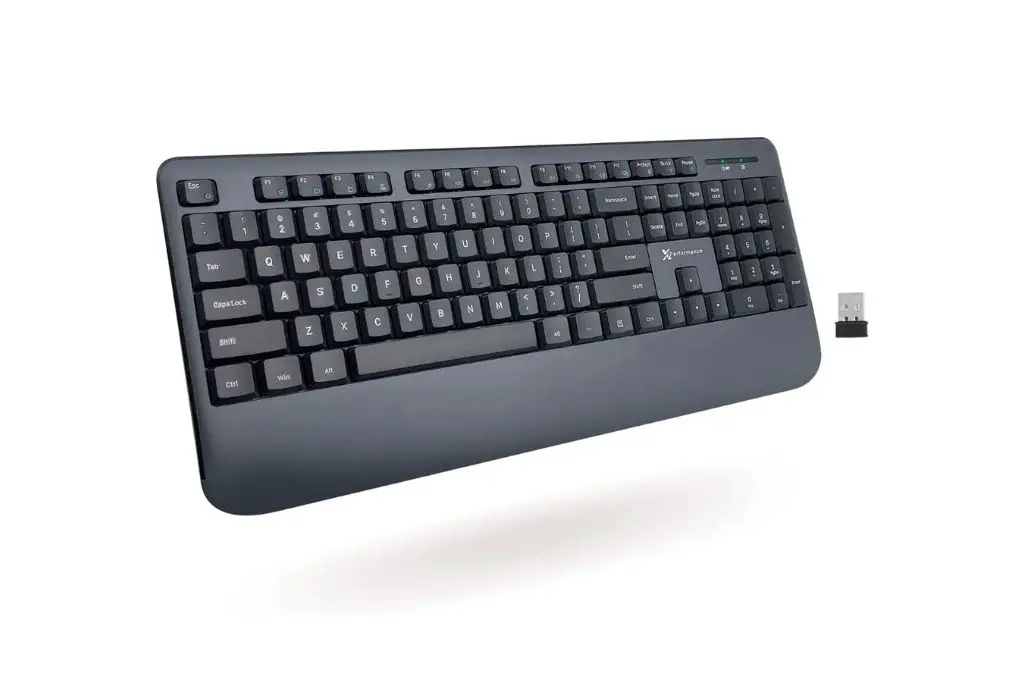 It has 104 keys outlined along with 16 shortcut keys and a numeric keypad of 17 keys for convenience. LED indicators for caps lock, number lock, and battery are also provided.
It has wireless connectivity of 2.4 GHz with a range of 30 feet. The set is powered by a 1 "AAA" battery, which activates sleep mode after an unused period. It can connect to any Windows PC or laptop with a single USB device.
Pros
It is compatible with all versions of Windows.
It contains 16 short-cut keys for convenience.
Includes light to indicate if caps lock and number lock are switched on.
Kickstands are adjustable as per the comfort of the user.
The wireless connectivity has a 30 feet range.
Cons
It does not have a backlight throughout the keyboard.
It does not contain an on-and-off switch to save power.
It does not come with a compatible mouse.
---
The Lenovo 510 Wireless Keyboard is one of the best with an ambidextrous Mouse. This black and sleek design will greatly enhance one's desk aesthetics.
It has wireless connectivity of 2.4GHz and connects the mouse and keyboard with a nano USB receiver. The spill-resistant design of the keyboard helps to avoid damage from any spillage.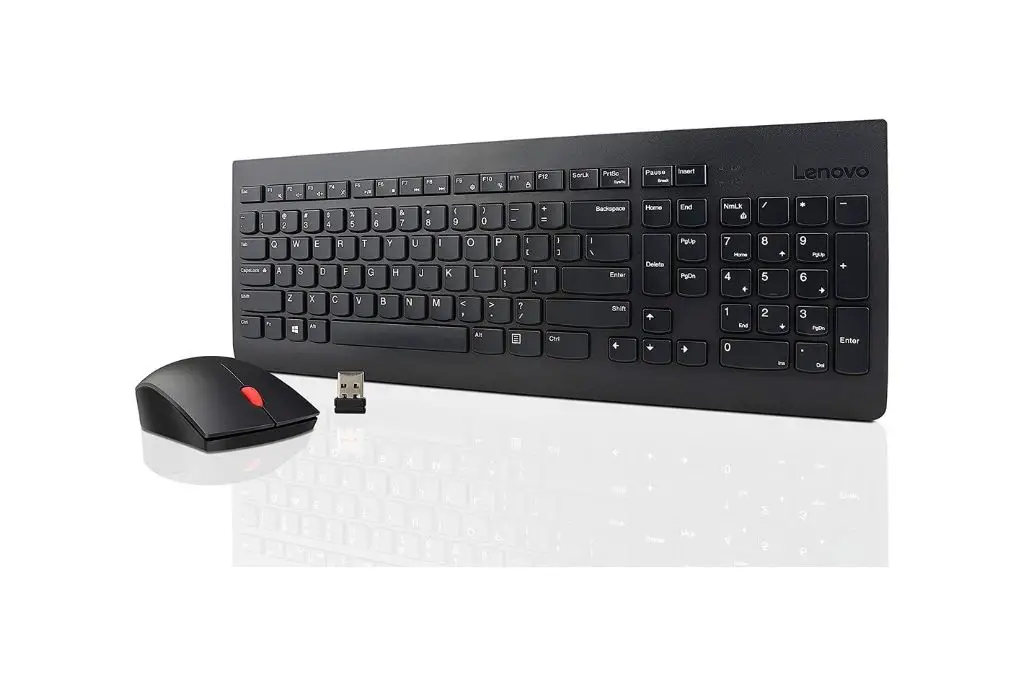 It has an island key layout that makes typing exciting and easier. The shape of these keys provides a high level of ergonomics. This makes the keyboard a trendy choice.
It also has LED lighting for caps lock and number lock keys, which helps you avoid typos and gives it a perfect finish. The keyboard is accompanied by a Mouse powered by an AA battery with a battery lifespan of 12 months.
Adding to this is ambidexterity. It is suitable for anyone, irrespective of them being left-handed. With this Keyboard and Mouse combo, one can add simplicity and style to comfort.
Pros
It has a kickstand at the back to adjust the height.
The keyboard has an island key feature that adds to its ergonomics.
The keyboard and Mouse automatically get deactivated after a period of inactivity.
The Mouse is ambidextrous and is suitable for everyone.
Cons
It is not supported on Android devices.
There is no backlight for this product.
There is no on-and-off switch on the Mouse, and hence cannot be controlled manually.
---
The EDJO Keyboard is a black, full-size, wireless keyboard compatible with almost all devices. It has been optimally designed with a palm rest and folding holder. This ensures smooth working conditions for your hectic work schedule.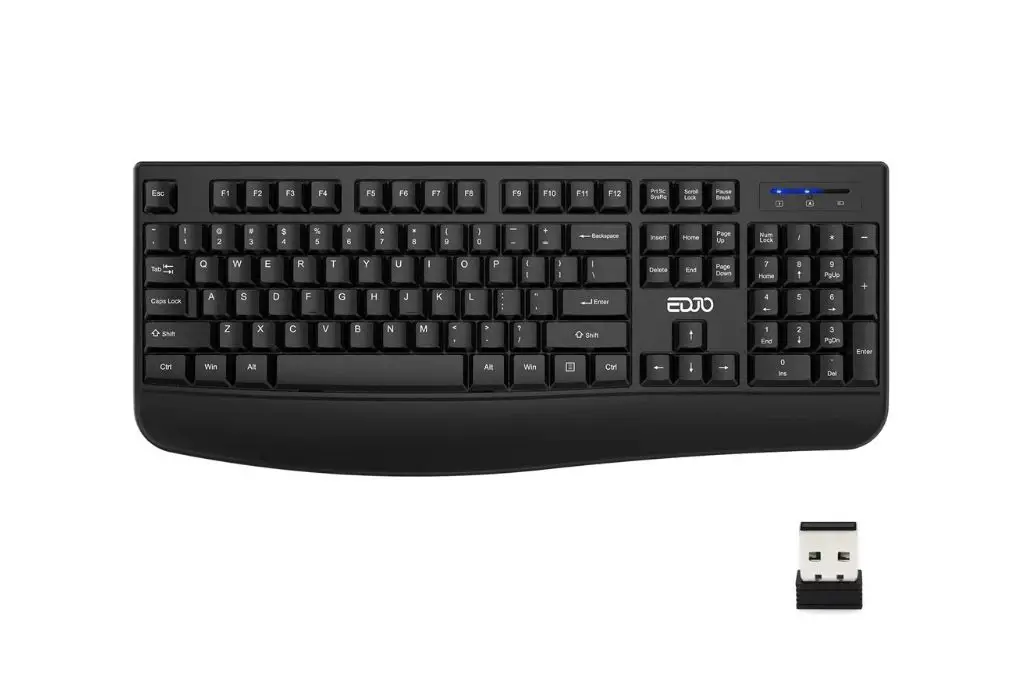 The anti-slide pad makes the keyboard stable during fast typing sessions. The 2.4GHz wireless connectivity guarantees a fast and reliable connection with no delays. It has a range of 33 feet, making it easily accessible from a distance.
The keyboard has a power-saving feature that automatically deactivates it after 30 minutes of inactivity. This extends the device's battery life and can be used for years.
The quiet crater switch feature of the keys adds to the pleasure of typing. The outline of the keyboard includes the caps lock, number lock, and power indicator.
It consists of a warranty of 1 year, within which it can be replaced or repaired in case of any damages. It works with many devices: Chrome books, PCs, laptops, computers, and more.
Pros
This is compatible with almost all devices.
Hassle-free connection with only one USB port.
The surface is waterproof and spill-resistant.
It can be operated from a distance of 33 feet
Cons
Volume cannot be controlled with the keyboard.
No manual off or on buttons.
---
The industry-leading Arteck Ultra Slim keyboard is the definition of comfort itself. The stainless steel finish makes it attractive and adds to the device's sturdiness. An easy setup feature makes life easier for your already hectic workdays.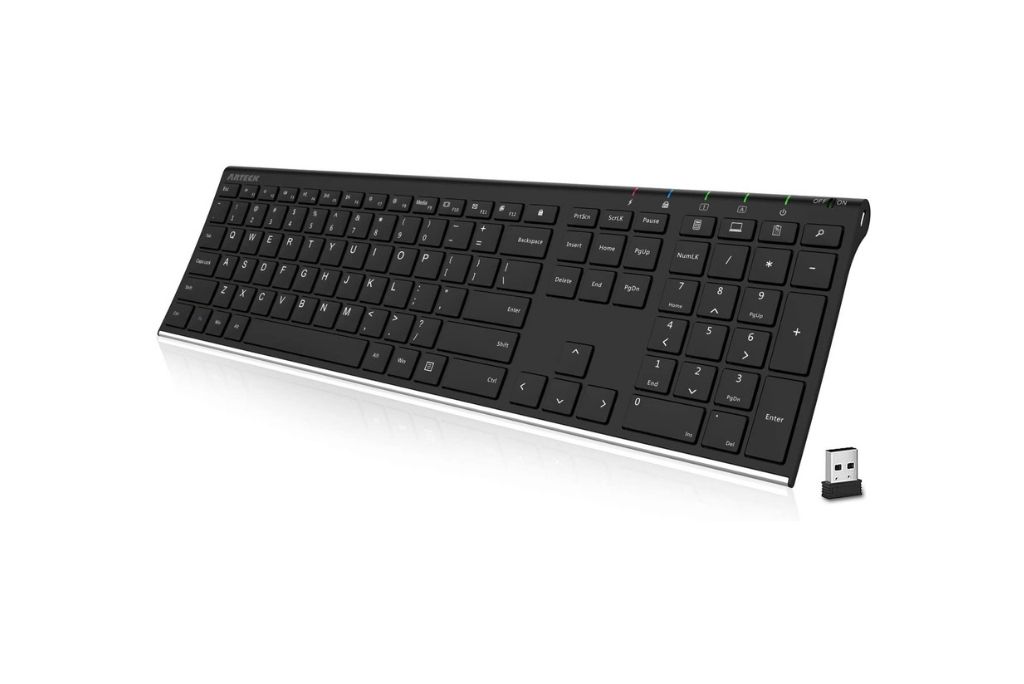 The ultra-slim design and sleek features make it look aesthetically pleasing. The weight of 400g makes it portable. The keyboard is powered by a built-in rechargeable battery that lasts 6 months.
Therefore, no need to replace batteries when exhausted. It also provides caps lock and number lock features that help to avoid typos while writing official documents. This is a smart buy and will not fall short of your expectations.
Pros
The battery supplied is rechargeable.
It automatically gets into sleep mode after a period of inactivity.
The keyboard offers a quiet typing feature.
The battery is charged within 2 hours and has a lifespan of 6 months.
Cons
It does not have a backlight.
It does not have a wrist rest for comfortable typing.
---
Buying Guide for Keyboard With Caps Lock Light
1. Ergonomics
The Ergonomics of a keyboard is more important than one might think. To ensure a comfortable working environment, one must purchase the right keyboard.
Some keyboards come with a palm rest that makes typing much more efficient. If you must engage in long typing hours, a keyboard with a palm rest is advisable.
The kickstands that come with almost every keyboard also add to this feature. Adjust the height to your preference and make work easier. An ergonomic keyboard can help with muscle strain and fatigue.
2. Design
The design of a keyboard is the first and foremost thing that one looks at before purchasing. So, the layout and style of a keyboard are essential as well.
With the development in technology, advancements in these devices, too, can be seen.
Island keys are now prevalent in most keyboards, which come from an array of small squares resembling chewing gum chiclets. Hence, it is also known as a 'chiclet keyboard.'
The sound of keys while typing may become a source of constant irritation for many. Therefore, keyboards now have 'quiet' properties that make no noise while typing. Some keyboards are also foldable, which makes them easily portable.
3. Weight
The weight of a keyboard is as crucial as its outlook. With fast technological advancements, keyboards have also become lightweight and ultra-slim.
Nowadays people work both in offices and at home. Regularly carrying heavy devices may become a problem. As a result, the need for soft keyboards has been recognized.
The weight also depends on the model, structure, and material used. For example, a keyboard made of stainless steel will be naturally heavier than a keyboard made of plastic or rubber. The average weight of a modern keyboard varies from 700g to 900g.
4. Compatibility
Nowadays, 'keyboard compatibility' has significant importance. Many devices have emerged, such as Mac, chrome book, android, Microsoft, Linux, etc.
People with varied technological needs are experimenting with this vast range of products. The keyboard and Mouse should be compatible to cater to this global demand.
The ideal keyboard would connect to all devices. So, customers need to ensure the keyboard's compatibility before finalizing the purchase transaction.
These keyboards provide that even when you shift to a new device, you do not have to worry yourself with repeated purchases of keyboards.
---
Conclusion
Typing instruments has come a long way. They have evolved with time, and just like any other technology, they have become precise in size and quality.
From the early typewriters to wired heavy keyboards to wireless and even foldable ones, they are evolving sleeker. The features are becoming more prominent, which helps efficiently use the keyboard.
The caps lock light that indicates whether the caps lock button is on or off is one of the features. Some keyboards also come with a backlight that helps the user work even in the dark.
The proportion of gamers is now increasing who demand these types of products. It also adds to the aesthetics of it all.
We are sorry that this post was not useful for you!
Let us improve this post!
Tell us how we can improve this post?