Nowadays, most people prefer to keep their gaming setups very simple. The white theme seems to be a top choice today.
In addition to choosing all-white components for their PC, they also need a white gaming chair to match.
Finding the best white gaming chairs that will go with your theme is tough.
Most gaming chairs are available in black and other colors, but most of them won't match our theme or might not be budget-friendly.
That's why I've picked some tremendous white gaming chairs, so let's get started without wasting any more time.
So If you're in, Hurry! You can choose between the above three chairs. All are best and comfortable.
---
List of Top 13 Best White Gaming Chairs for White Setup
---
White gaming chairs are hard to find, but I have found them for you.
With these gaming chairs, you can stay within your budget while enjoying the comfort and great value. 
---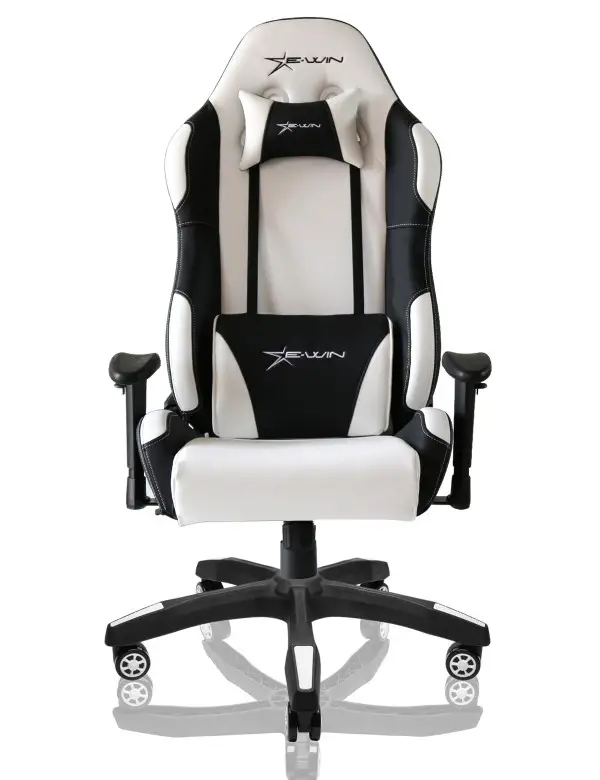 EWinRacing is one of the fastest-growing Gaming chairs and desk brands, not only in the USA but also in Europe. Their gaming chairs come with many exciting features that a gamer needs.
Similarly, the EWinRacing CLC Ergonomic Chair has some excellent features, so we have listed this chair on top.
Although this chair comes in a different color, we have picked a white and black mix here as we're talking about white colors.
The first thing that comes to mind when we think about a gaming chair is that it should be an Ergonomic chair. Because Ergonomic chairs help us maintain proper posture and movements while gaming, reduce back pain, and improve overall gaming reaction.
This chair also falls into that category; it fulfills most Ergonomic requirements. This chair has high adjustability, a great foam density of 55kg/m3, and 2D Adjustable Armrests to support your arm.
Moreover, it has full-tilt functionality, a Tilt lock, and a Tilt angle lock, enhancing the overall adjustability.
The build quality is also important when choosing the chair. This chair has solid stain-resistant 2.0 PU leather so that you can remove any stain with a simple cloth.
This leather will make you feel comfortable during your long gaming session. There are some other great features, they are;
Key Features of this Chair
Stain Resistant 2.0 PU Leather
Cold-Cure Foam
Lumbar Support
High-Density Upholstery Foam for Head Pillow & Lumbar Cushion
Full-length Backrest Recline
Adjustable 2D Armrests
Multi-Functional Tilt Mechanism
Class 4 Hydraulics
Hubless Casters
Max Load or weight capacity 400lbs or 181kg.
Frame: Metal
Tilt Lock & Angel Lock – YES
4 Gas Lift Class
85-155 Degrees Adjustable Back Angle
5-star Wide Aluminum Base
10-year warranty
Use the promo code Alltechloaded to get 20% instant discount! [Only for first 200 buyers, Hurry Now]
---
This is the cutest gaming chair on this list. This is a chair with a pink and white combination.
Like an actual bunny, the chair had two ears as well. I am sure you will like this chair if you are a girl with a gaming setup.
I will list the names of a few pink chairs that are equally good, and I will mention their names in this list.
The footrest of this chair can be retracted. With all its features, a gamer can have a comfortable gaming experience in this chair.
With the instructions in the box, you can quickly assemble this chair, even if you've never assembled a gaming chair before.
They have an excellent support team and will help you with any concerns regarding this chair.
Although this chair is a little pricey, it is well worth the purchase. But this is one of the best white gaming chairs.
Key Features of this Chair
Adjustable Heading and Lumbar Support.
The build quality of this chair is very nice.
The footrest is retractable and provides good support for your legs.
Padded armrests, heads, and lumbar support pillows provide excellent comfort for your use.
It is suitable for long hours of gaming or work.
---
We chose this particular chair because of its design. It is the most stylish white gaming chair that you will ever see.
Additionally, the chair is quite affordable. Its high-quality shaping foam makes it perfect for long game sessions.
Steel body, 1.8 mm thick, provides durability and reliability. It has a weight capacity of 300 pounds.
Leather makes it comfortable to sit on, and overall it is a chair that you should consider investing in if you have an all-white gaming setup.
The chair also has five 360-degree rotatable wheels that can be rotated in any direction.
Key Features of this Chair
High-quality shaping foam is used for extra comfort.
1.8 mm Steel Frame for Durability.
Skin-friendly leather is used for your skin.
Class 3 gas lift for height adjustment.
The wheels of this chair are tested for 1000 miles, so you can say that they are super durable.
Lumbar support and head support helps to keep your body posture right during long hours of gaming sessions.
---
The second chair on this list is from Yamasoro furniture. It's a white gaming chair that looks very professional.
You can also use it as an office chair if you prefer ultimate comfort.
This chair's design makes it stand out because it has a unique and highly appealing look.
If you have been suffering from back pain for a long time, this chair will help you get relief.
This office/gaming chair is designed with comfort in mind. The vast and soft backrest will assist you in relieving your neck or lower back pain.
The design is very modern and unique. I'm sure you won't regret purchasing this chair because Yamasoro is a respected brand.
Additionally, the chair is very durable, so you can use it for quite some time.
Key Features of this Chair
It will completely change the look of your office or gaming setup.
Unique Design and Extreme Comfort.
Provides a good amount of support for your lumbar and lower back portions.
The armrests are located in the perfect position.
The entire frame of this chair is made out of steel.
The seat is made with very soft and comfortable material, giving a very nice feeling when sitting in it.
---
This is an ergonomic gaming chair with LED lights. With an adjustable footrest, this gaming chair is fantastic.
Although it isn't completely white, I think it should work with all types of gaming setups.
All features of a good gaming chair are present here, and the led lights look very appealing in a dark environment.
The chair's footrest, lumbar, and neck rest make it as comfortable as a couch for resting or taking a quick nap.
The led light looks the same on the white version of this chair. Five universal wheels move in every direction so that you can drive anywhere.
You can also adjust the height of this chair to match your monitor's level.
This gaming chair looks fantastic, and all its components are custom-made, providing a very professional and elegant design.
This chair has high-density sponge padding, providing a comfortable experience during long gaming sessions.
Key Features of this Chair
The footrest, supported by metal tubes, provides a comfortable place to put your legs while gaming or resting.
An adjustable height of 18.5" to 22.5".
360-degree rotatable design.
The armrest and the headrest are perfectly positioned.
It can be suitable for anyone with any body weight.
The reclining mechanism on this chair provides a suitable structure where you can rest or even nap.
---
This is the most expensive-looking and elegant gaming chair on this list. In addition to its classy look, this Chair provides the best quality available.
The Chair is the best choice for those who want a luxurious-looking gaming chair at an affordable price.
There is no better material for a gaming chair than leather, and this one is no exception.
The leather texture and detailed stitching give this Chair a very professional and expensive appearance.
While gaming, you'll find that the high-density shaping foam is comfortable and supportive.
Also, the armrest is very soft. It is not made from regular padding materials, so that it will last longer than other gaming chairs.
All in all, if you want an affordable and elegant gaming chair, then this is the one for you.
Key Features of this Chair
The chair has a built-in massager that helps you relax more, and this massager is powered by a USB cable that can be connected to your computer, a power bank, or any other power source.
90-degree – 180-degree reclining.
20-degree retractable footrest.
It can handle a weight capacity of 350 pounds.
Head and Lumbar support.
---
It is not very hard to find a black-and-white gaming chair, but the hardest thing to see is that it is affordable and comes in black and white.
Long hours of playing games on an unergonomic chair can cause back and neck pain.
For gamers, this chair is designed specifically to play games comfortably for long periods.
This chair is made of soft and comfortable material.
It is designed to adjust the foam to your body shape and ensure the correct spinal alignment as you sit in it.
This chair has a steel frame that makes it durable and four gas lifts.
It can handle weights up to 330 pounds and accommodate people of different sizes.
You don't have to worry if you are big, because this chair will fit you perfectly no matter your size.
Key Features of this Chair
Easy to clean and maintain.
5 years of manufacturer's warranty.
30% high-density cold-cured foam.
Armrest padding for maximum comfort.
The steel Frame Provides durability for this chair.
---
This is an all-white gaming chair with excellent looks and features. It's a good chair, but it doesn't work for taller than 5.6 feet of people.
This chair is not suitable for people who are taller and bulkier. The snow-white design makes it looks fantastic.
The chair looks great in any environment, even if you don't set it up.
It is made of a high-quality metal frame with anti-corrosion paint to increase its longevity.
The seats are covered in leather, the same quality leather used for inexpensive car seats. The chair can recline up to 180 degrees.
You may feel clumsy if you shift from a wide chair to this chair since it has high-rise side panels on the back.
This chair has a weight limit of 155 pounds, which is relatively low, so it is not recommended for every user.
Key Features of this Chair
Stunning looks.
All-White Design.
Extremely comfortable.
Neck pillow and Lumbar support.
Quality build.
Adjustable Armrests.
---
In terms of gaming chairs, this is a mid-range model. Indeed, this chair does not have any other features, but different gaming chairs offer the same quality, comfort, and features at a high price.
Musso gaming chair is a solid budget contender competing well with other budget chairs.
With its black and white design, this chair provides a very sporty look. This chair is known for its comfort.
The chair has a dual metal frame and high-density foam, giving it a life span of about ten years.
PU leather makes sitting in very comfortable and feels good against your skin.
The headrest and the lumbar support are fully adjustable, and the chair is easy to assemble. If you make it correctly, you will be done in 20 minutes.
If you're looking for a white gaming chair for your white gaming setup and do not want to spend much money, this chair is perfect for you.
It also comes with a 1-year warranty.
Key Features of this Chair
Large and Comfortable Design.
Perfect for large individuals.
Very easy to assemble.
Affordable Price.
Comes with a headrest and a neck pillow.
---
---
It's hard to find a black and white chair. It is hard to find a white and purple chair together.
The chair is from AKRacing's Core Series. It is a great gaming chair because it is made from steel and is highly durable.
With its soft padding, this chair is incredibly comfortable to sit in. This provides extra comfort during long hours of gaming sessions.
The chair has lumbar and headrest cushions to support your back and neck.
It helps you maintain a good posture, which is healthy for your body and won't cause any pain.
While this chair's price is a bit higher, I am confident that if you can spend a few extra bucks, you will not regret buying it.
Key Features of this Chair
Leather is used in the front as well as in the back.
5-year warranty by the manufacturer.
The all-metal frame provides durability for this chair.
Soft padding material provides a nice and comfortable gaming experience.
The height of the chair is adjustable.
This chair is very easy to clean due to the material it is built out of.
---
DXRacer is a trendy manufacturer of gaming chairs. Most models come in black and white, with a few other custom colors.
You will not have to spend much money on these gaming chairs. This chair is from their gaming series.
Its body is made from steel, which makes it durable and long-lasting. Double cushions make this chair comfortable.
The backrest is wide enough for people of any size to rest their backs comfortably.
This is the most comfortable and affordable gaming chair you can buy for your gaming setup. Many professional games also use this chair.
Key Features of this Chair
It is made for comfort.
Steel frames provide durability.
Provides a good level of comfort for your back.
Adjustable height and armrest.
Affordable Price.
---
As the previous chair, this is also a premium category chair.
As an excellent gaming chair, it offers the flexibility to adjust its height and level of comfort to your preference.
The pleather cover over the cold-mold foam provides comfort and durability for long hours of gaming. It also comes with a two-year warranty.
A 165-degree incline provides a very comfortable position for watching movies or YouTube videos, making it one of the most value-for-money chairs on this list.
It is a high-quality gaming chair that is adjustable and has enough flexible features.
Compared to other gaming chairs, the price is also reasonable.
Key Features of this Chair
Comfortable builders for people of any size.
Neck and Lumbar Support.
High-quality design.
It's very easy to install.
3D armrest.
---
---
This is a very budget gaming chair that provides decent quality. The gaming chair offers an overall solid build which is nothing extraordinary.
It also falls into the budget category for gaming chairs, so don't expect anything special from this one. Considering the price, the quality of this chair is fine.
It has a black-and-white design and a similar frame structure to Musso's. The seat is made of a sponge that is covered with PVC. As a result, you will get comfort and fewer chances of it getting dirty.
When this chair ages a little, you may experience less comfort due to the short lifespan of the seat padding. Additionally, it had a retractable footrest.
However, this footrest does not go all the way down, so that you can use it as a knee rest or even a calf rest. Moreover, you can recline the chair at a 170-degree angle.
You can only adjust the armrests vertically, so you can only raise and lower them. In other words, this is a budget chair with an average build.
If you are thinking about getting this chair for a short period, it is fine, but if you need it for an extended period, I think you should consider other options.
Key Features of this Chair
Comes with Footrest, Headrest, and lumbar support.
Budget-Friendly.
It's very easy to assemble.
Many color options are available.
---
So I hope you like our listed best white gaming chairs, which will make your gaming life easy and comfortable.
I am also a White lover, and I like the first chair, Respawn RSP-110, as it looks fantastic with a pink border.
So girls will also love that one. In amazon, this chair has more than 25k excellent reviews.
So you can surely go with this one or anyone listed above as we have attached all the chairs after doing long research.
So have a happy buying, and stay connected with us for more information like this one.