Leaving the Xbox back at home is the worst nightmare for gaming enthusiasts ever when going on a long trip. It's an easy decision to pack the game console with you when traveling by road. However, not when you have to onboard a flight. Airlines have various protocols that passengers must follow to travel safely, including luggage restrictions.
Even if you can, there's a constant fear of cargo staff mishandling your bag. So how to carry your Xbox safely on an airplane?
Don't worry! We'll share the secret to travel with your Xbox console without damaging it. In this comprehensive guide, you'll find the crucial details and tips for bringing Xbox on the plane.
Bringing An Xbox in Carry-On Luggage
Keeping your Xbox in carry-on luggage is always the best decision. After all, nothing can be more secure than managing your device yourself.
That said, your device will mostly be risk-free from any damage in the overhead bin. Besides, you don't need to be afraid of mishandling by cargo staff. Since the console will be in your watch, there's also no chance of it getting stolen.
However, your Xbox carry-on luggage must follow hand luggage size and weight proportions as per TSA (Transportation Security Administration) guidelines. It will help avoid unexpected constraints during security check-in.
Bringing An Xbox In Checked Luggage
You can also carry an Xbox in your checked luggage. Unlike laptops, there's no restriction on keeping gaming consoles in the check-in luggage.
However, its safety is at risk in checked luggage. Usually, baggage handlers throw around suitcases and bags that can damage your precious gaming device. After all, they don't know what's inside the bag.
You can prevent damage by being extra careful during packing, which we'll discuss later in this blog.
Will My Xbox Break if I bring It to the Airport?
Of course, not. Nothing can damage the Xbox if you appropriately pack your Xbox in a carry-on or checked luggage. However, accidents can happen.
We all know how often baggage handlers toss the luggage carelessly during loading and unloading procedures due to limited time. For instance, the bag may drop while loading on freight vehicles and machinery. Controlling this situation isn't in your hands.
Do you Have to Take your Xbox out at Airport Security?
We all know security checks are a crucial part of air travel worldwide. So at an airport security checkpoint, officials will ask you to remove your Xbox from the bag.
Like laptops, you'll place the game console in an individual tray during the device screening. TSA separately scans large electronic gadgets to ensure it's legitimate.
However, the security procedure may differ for some international airports. It means you can keep the Xbox bag directly for the security scan without removing it from your bag. The security agents will only open your check-in luggage if they need to do additional screening.
So make sure to pack your Xbox in an easy-to-open bag, such as a console carrying case. This way, you can bring out your game console hassle-free at the security screening. It'll also save time for others waiting in the queue.
On the other hand, ground executives won't ask to take out your Xbox from checked-in luggage for checking.
Are Gaming Controllers Also Allowed on Planes?
Like the Xbox console, you can even carry gaming controllers on the flight without any restrictions.
However, TSA doesn't allow controllers with rechargeable batteries in checked baggage. So pack devices like Xbox Plug in your carry-on. Besides, ensure to put them in separate plastic bins for security scanning.
TSA Regulations for Gaming Consoles
The TSA doesn't restrict travelers from carrying their Xbox and gaming controllers in carry-on or checked bags. In fact, the regulations for carrying Xbox on a plane are similar to laptops. So you'll follow the same procedure to pass the electronics screening process. [source – TSA]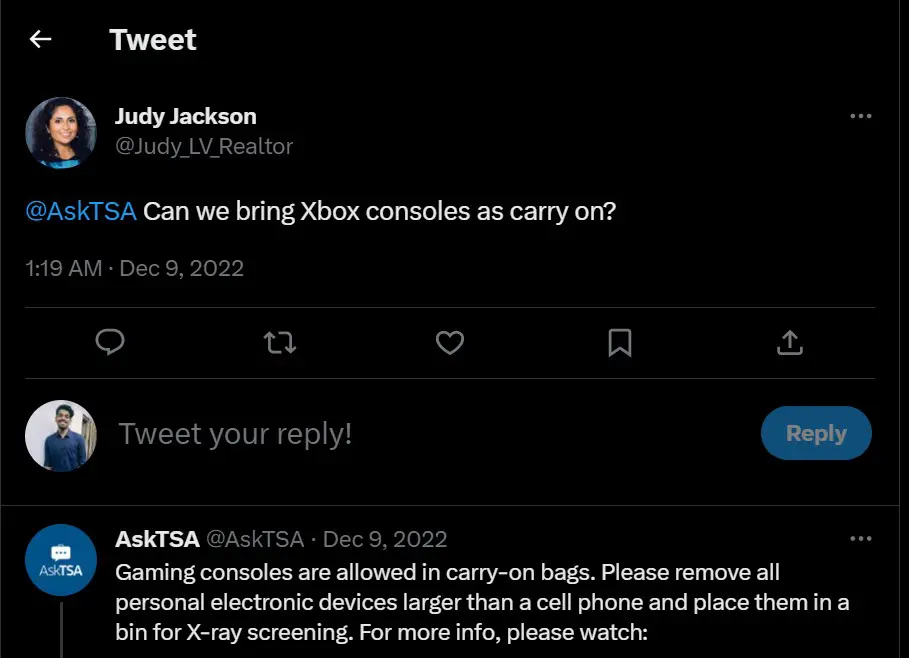 However, remember to stay within the airline's luggage weight limits, specifically for checked baggage. 
How Do You Pack an Xbox for a Flight?
From security to the unloading process, a check-in bag goes through a long process. It means numerous people will handle the luggage. Not securing your Xbox tightly in the suitcase means it will move around and may damage eventually.
So if you want to carry your Xbox in check-in luggage, place it in the middle of your bag. For extra protection, wrap it around using soft garments and towels to withstand the normal rigors of air travel. You can also buy cushioning material or bubble wrap if money isn't constrained. Anything for your valuable gaming console, right?
You can also make a separate check-in bag for the Xbox console and controllers. Further, you can add a fragile sticker to that bag. Again, there's no assurance that cargo staff will be careful. Airport ground authorities will accept fragile checked baggage only at the passenger's own risk.
These packing strategies will keep your Xbox device from moving on the flight or when handled by the cargo team.
Tips for Carrying Your Xbox or PS4 on a Plane – Key Takeaways
Here're some smart packaging hacks you must pay attention to whenever traveling with your Xbox.
Buy a game console carrying case. It also contains space to store game controllers, leads, and discs. Hence, you can keep the whole gaming set in one place securely.
You can also carry Xbox in a backpack that you can put under your seat (if an airline allows it).
The carry-on bag guidelines vary for the airlines. For instance, TSA regulations allow handbags within 22 x 14 x 9 inches (including wheels and handles). So go through the baggage policies of the respected flight to pack Xbox in suitably sized luggage. 
Xbox consoles are heavyweight. Walking around can be challenging with Xbox in hand baggage for some people. In this situation, you can pack the game device in checked-in luggage. However, always keep it sandwiched between your clothes for added protection.
Keep your Xbox wires untangled to pass through the screening quickly. You can store them in an individual case. It'll also protect the cables from breaking.
Additional tip: Electrical sockets differ throughout the world. So keep an alternative adapter to use your Xbox in other countries.
Wrap Up
Whether you own an Xbox 360, Xbox One, or Xbox Series X|S, carry your gaming gadget with you onboard stress-free. Your Xbox can accompany you on both domestic and international tour plans. 
Nobody will flag your console and controllers at the security checkpoint till you comply with the airline's packaging limits. Just remember, proper packing is key to the safety of your Xbox.
FAQs
Can video games go through airport security?

Yes, X-ray screening is vital for video game controllers at security checkpoints.
Can I bring video game controllers on a plane?

Yes. You can carry game controllers on a plane inside your carry-on bag.
Should I pack my Xbox in hand or check my luggage?

Ideally, pack your Xbox console in the hand baggage to avoid accidental damage.
Does Xbox have lithium batteries?

No. The Xbox consoles don't have lithium batteries. Hence, airlines allow them to carry checked luggage.
Can I carry Xbox game discs on a plane?

Yes. There's no harm or restriction in packing game discs on your carry-on or checked luggage.
Are portable gaming consoles, like Nintendo Switch, also allowed on a plane?

Yes, but you can only pack them in hand baggage as they contain lithium batteries. Make sure to keep them in an individual bin for screening.
We are sorry that this post was not useful for you!
Let us improve this post!
Tell us how we can improve this post?