Are you going to buy a new monitor? If yes, then it is obvious you will have the question if the monitor comes with your desired port or not.
In this case, it is a DisplayPort cable. As if you'll use it as a PC, then DisplayPort is one of the best choices nowadays, as it serves the best resolution, refresh rate, and a few other great features.
But, before getting a monitor, you'll have the doubt if you have to purchase a DisplayPort cable separately or if the monitor manufacturer will provide it in the box.
Don't worry here; I'll discuss everything on this matter in detail, so let's check it out.
Do Monitors Come With DisplayPort Cables?
If you're purchasing a High-end latest gaming monitor with DisplayPort capability, then it will provide you with a good-quality DisplayPort cable. Whereas, if the monitor only supports HDMI functionality, it will not provide a DisplayPort cable; instead, you'll get an HDMI cable.
Monitors with DisplayPort functionality not only come with a DisplayPort cable but do offer an HDMI cable most often. So, if you're purchasing a high-end gaming monitor, it should come with a DisplayPort cable & an HDMI cable.
DisplayPort is the best option for high-end gaming as it provides some great features like G-Sync, Free-Sync, and more. Thus, if the monitor is promising these features, it will definitely have DisplayPort.
I've checked a few popular monitors for gaming, and most of them come with a DP cable. I also researched normal monitors as well and found they mostly have HDMI or VGA cables in the box.
These all come with DisplayPort cables; they are designed for gaming mainly.
SAMSUNG 27″ Odyssey G32A
LG 24GN650-B Ultragear
ASUS VG248QG
ASUS TUF
However, the old TVs mostly come with an HDMI cable, as HDMI is a universal interface and is supported by most devices. And for entertainment purposes, HDMI is a better option than DisplayPort because of audio quality and length.
Hence, you must have a deep look if you're buying a monitor and need a DisplayPort option; here are some great ways to find out if your monitor has DisplayPort.
How To Know If the Monitor Will Come with DisplayPort Cable or Not?
Here are some good ways to check if the monitor you're going to buy has a DisplayPort cable or not. Let's check.
#Check the Box or Item Description
If you are at the local shop to purchase the monitor, then check the box of that particular monitor, and you'll get to know if it comes with DisplayPort cable or not. Or if the box has no clue about DisplayPort, you can ask an expert in the shop.
Similarly, if you're purchasing the monitor online, then you must check the description or, more specifically, the "What's in the Box" section.
Here is a popular gaming monitor, ASUS TUF gaming monitor and here is the section of "What's in the box";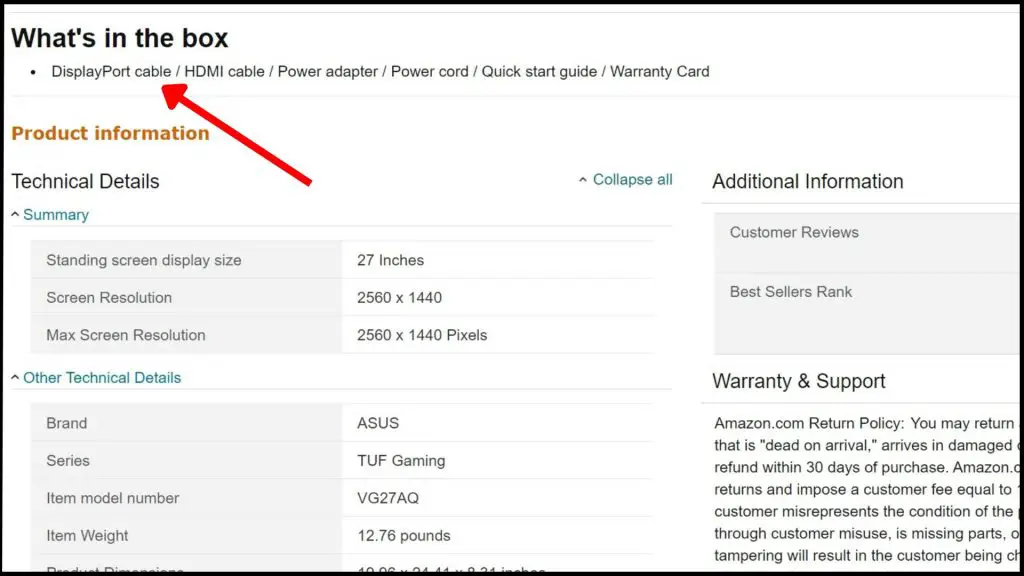 Moreover, you can ask questions about the item below on amazon or other online shops.
#Watch an Unboxing of that Monitor on YouTube
If you've selected a monitor for your needs and don't know if it has DisplayPort, then one of the best ways is to check unboxing video of that particular monitor on YouTube.
As soon as they unbox the monitor, they will also tell you what's inside the box. Another good thing is that you can comment below the video and ask any questions you have.
#Ask on a Community
There are thousands of communities on Facebook, Reddit, and others about displays and monitors. If you have to know anything about any particular model, you can just simply join those communities and ask your doubts there.
Possibly, someone has purchased the model and is ready to solve your problems.
We are sorry that this post was not useful for you!
Let us improve this post!
Tell us how we can improve this post?