A simulator mobile game based on cooking skills was developed and published by Nordcurrent in the year 2014. Since then it has become one of the most played games. The game has three modes, in every mode, the player controls the restaurants where he/she has to make food and beverages and serve the customers to complete the mission and proceed to higher levels. The game got more than 100 million downloads that led developers to produce similar games of the same category.
In this article, we will find some similar games like Cooking Fever.
Games Like Cooking Fever
---
1. Cooking Hot – Craze Restaurant Chef Cooking Games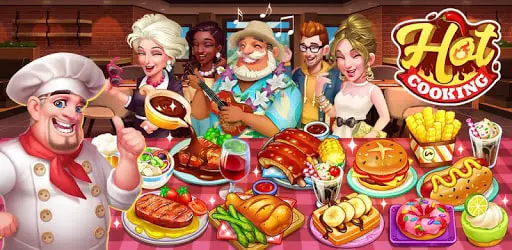 A simulation cooking game developed by FlyBird casual games for the great chef enthusiasts. Here you are the Star chef and fully mad in your job, you cook delicious delicacies to serve your customers in various kitchens of different nations. You also get to know about the proper ingredients used in different dishes, create your own dish and combo, earn coins to upgrade your kitchen, complete challenges, and pass to higher levels. The game also gives a realistic touch to your cooking like serving the customers in time, minimal wastage of food, etc.
2. Cooking Marina – Fast Restaurant Cooking Games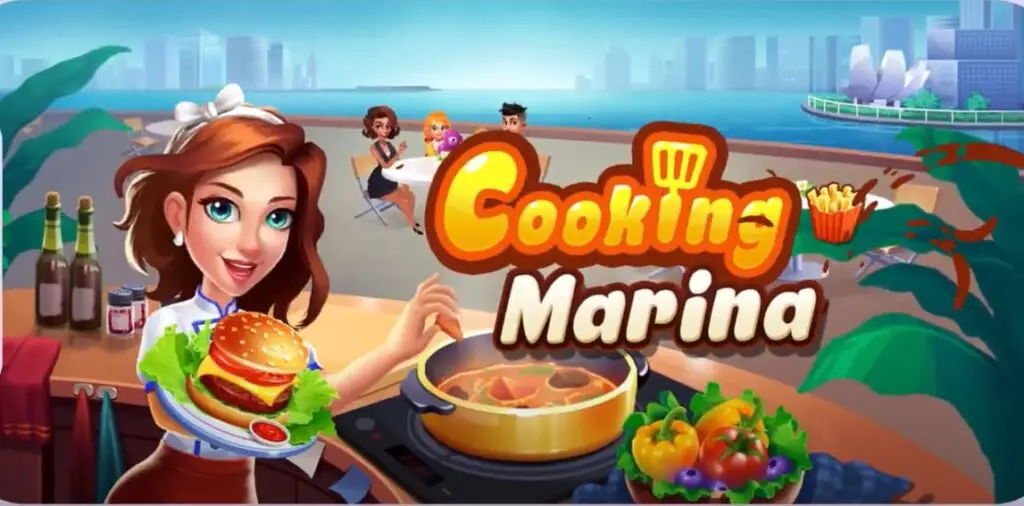 This is a cooking mania game developed by CSCMobi Studios. This game is based in restaurants in Singapore and other Asian cities. You become the main chef in this game and get a realistic feel of the kitchen, you can become the Mad Chef by upgrading the kitchenware by cooking food, serving it to the customer, and earn rewards to unlock the updates. You can also earn handsome tips by flaunting your cooking skills. You can learn all the cooking gestures, create a new dish, learn new skills, make mocktails, etc. All these features make this game a popular game among food lovers.
3. Cooking City – Chef, Restaurant & Cooking Games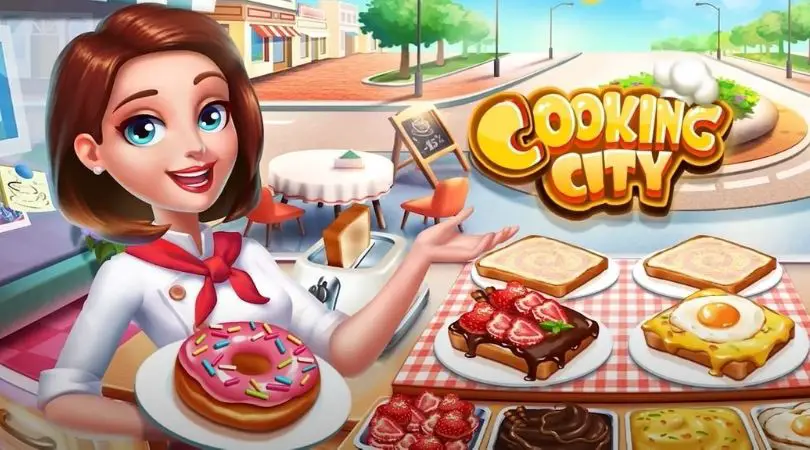 Developed by MAGIC SEVEN, this is one of the trending cooking simulation games. The player is the star chef who needs to show off his/her cooking skills in these games by cooking in kitchens around the world. In this game, you can explore cafes, bakery shops, and restaurants. This game is free to download and you can cook even if you are offline. You can also acquire time management skills by cooking and serving on time. Some mouth-watering delicacies which you can cook are pizza, burgers, waffles, etc. You can use powerful boosts to complete the special missions and can make unique combos to earn more rewards.
4. Happy Cafe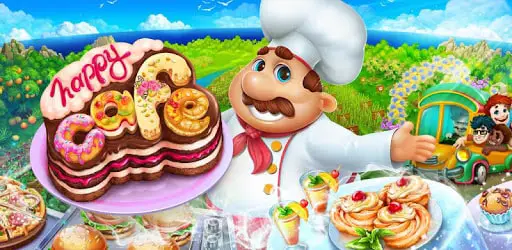 This is a Nordcurrent cooking game where you can establish your own cafe and run it. You have to create new delicacies from various international cuisines. You can own your own farm also. You have to make your cafe decorative and attractive as per your choice. You can invite your friends to visit your cafe to earn rewards and upgrade your kitchenware to expand your cafe and territory.
5. Pizza Shop Mania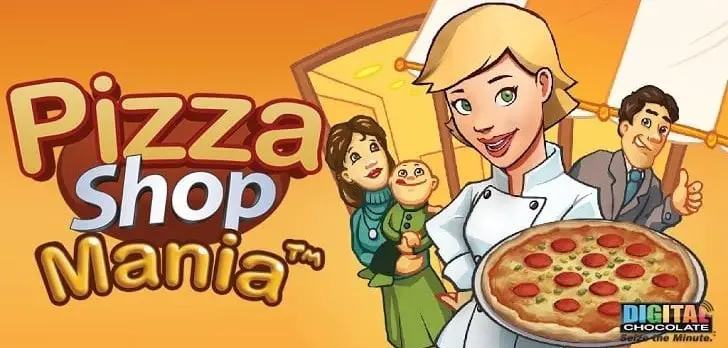 The game is developed by Rockyou Inc. As the name suggests in this game you have to show off your pizza-making and selling skills and make your pizzeria famous and open more shops. You have to make the pizza on time. This game has 48 levels which you have to cross by completing the task in each level. This is also a popular time-management game with a more realistic approach.
6. Rising Super Chef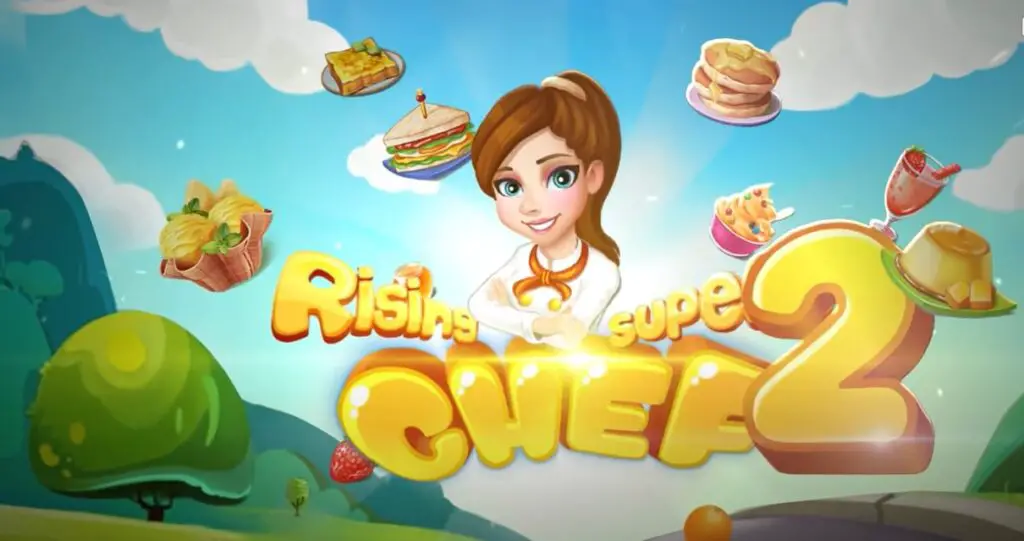 This is also a popular cooking simulation game developed by Mini Stones Games. Here the player is Ramsey, Who is helping Emma who has started her venture. This game has a lot of realistic touches. There are more than 1000 levels which you need to clear. It has 36 maps, 200 ingredients to use while cooking and 700 real delicacies to cook and serve. Some of the delicacies are hamburgers, Cottage pie, Cheesecake, Muffins, yogurt, etc. You can make these cuisines offline also.
7. Cooking Dash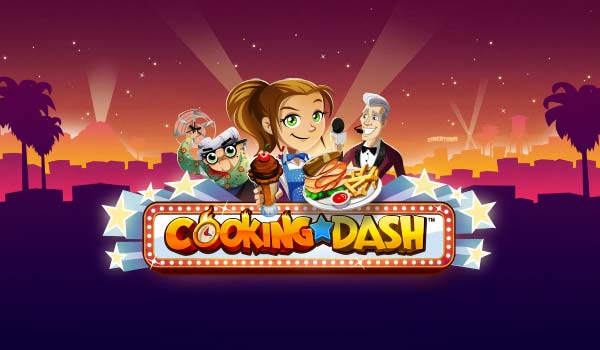 A popular cooking game developed by Glu. Here the player is a celebrity chef named Flo. You have to make unique recipes in front of a live studio audience. You also have to compete in the series finale to win rewards. The game has more than hundreds of episodes which you need to complete to collect rewards and upgrade your food ingredients and appliances as per your needs. The game also features a multiplayer mode where you can compete with your friends.
8. Cooking Star – Crazy Kitchen Restaurant Game
This crazy cooking game is developed by Big Brick Games for the mad chefs. You have to create your unique recipes and cook them. You also have to make different combos in your kitchen to earn huge tips that will help you to upgrade your kitchen. There are different cooking missions, where the player can participate to earn money. The game also has different levels which you need to cross to get gems.
9. Happy Cooking 2: Fever Cooking Games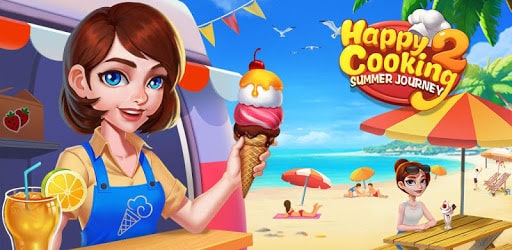 A cooking simulation game developed by JOYNOWSTUDIO. This game lets you cook delicious dishes for free. The player can build new dream restaurants and make dishes from hundreds of delicious recipes. This game also has fashionable dresses that you can try while showing off your cooking skills. There are many challenges in this game that you have to overcome and earn coins. The player also has to manage time to serve the dishes on time to the customer. The more no of the dishes you make the more coins and tips you get. You can enjoy all this without an internet connection also.
10. Cooking Express: Star Restaurant Cooking Games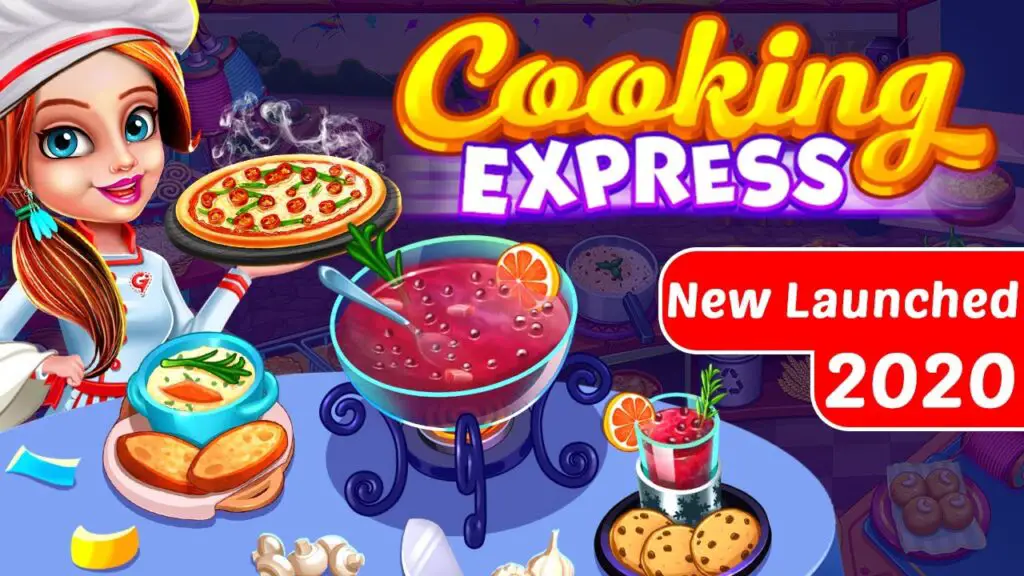 Developed by GameiCreate, this is a fun-filled kitchen game. You have to open your own restaurant and spread it worldwide to become the star chef. There are more than 34 locations in this game. There are more than 1000 delicious cuisines that you can prepare and acquire cooking skills. You can also create unique recipes and earn more money. There are more than 1800 levels that need to be crossed to upgrade your skills and kitchenwares. The game is also a time management game where you have to serve your hungry and angry customers on time otherwise lose points.
These are our top picks, we hope you get your best alternatives of Cooking Fever.
---
We are sorry that this post was not useful for you!
Let us improve this post!
Tell us how we can improve this post?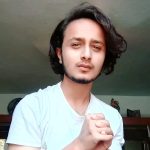 Aman Dhiman is a unique Author of this Blog. He is a Gamer, Streamer, and PC Builder. In total, he has built more than 5 gaming PCs. He is also a rapper and has a YouTube channel. Read more about me →