Anyviwer is a remote desktop software that allows you to access your devices remotely from any location. This software works over the internet, and to access a device from your device, you need to enter that device code in your device, and the connection will be made.
Anyviewer is available on Windows, Android, and iOS. It was developed by AOMEI Technology which is Hong Kong-based firm.
Over the years, we have had a lot of innovations and new tech coming. Covid came, and most of the things got online. Remote work became a regular thing. With remote working, there was a need to access office or school computers from other locations.
There are a lot of remote desktop software in the market, and one of them is Anyviewer which is a promising one.
AnyViewer Features
With some of the best industry features, AnyViewer has features to cater to most of your needs.
Remote desktop access:
This central feature of any viewer is remote desktop access. It allows someone to access their devices if they are far away from home. You can also access your work computer in the office with this feature. Its fast, user-friendly interface is secure as any viewer uses end-to-end encryption via a strong 256-Bit Elliptic Curve Cryptography (ECC) algorithm.
The remote desktop feature comes with other options also, which can come in handy. The one I liked the most was the Privacy screen option, where you can make the remote device screen black. 
You can change the screen's resolution when you have successfully connected with devices. This feature comes in handy if you have a slow internet connection. The option to text in between your remote session is also an excellent feature for troubleshooting the client's device. 
Mobile Access:
Sometimes you don't have your laptop with you, but in that case, you can still connect to your remote devices with your Android or iOS device. This can come in handy if you are on the go. Mobile access has other features like power management, which can lock, restart or shut down a computer from your phone. 
The virtual mouse is also great. It makes the remote access process lot more accessible. You can also rotate your remote device's screen to match your phone screen size.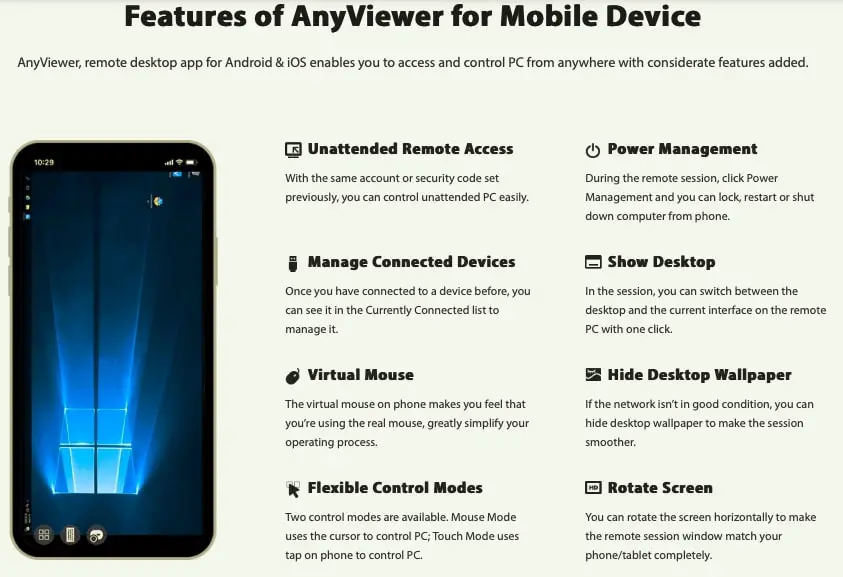 File transfer:
A situation may arise when you are assisting your client or want to transfer files from your computer. In that case, you can easily file transfer in any situation because Anyviewer has this option too. The maximum file transfer speed for free users is 500Kb, and for premium users, it's 10Mb.
Is Anyviewer safe to use?
Anyviewer is pretty safe; you can confirm this by the fact that it uses ECC in its platform. ECC, or Elliptic Curve Cryptography, is a powerful cryptography technique that generates a Public and Private Key to decrypt and encrypt web traffic.
Pricing and Plans
Anyviwer offers 3 plans—free, premium, and enterprise.
The professional plan is $49.95 a year. This plan offers 2 channels, 100 managed devices, high-speed file transfer, and high-quality images.
The enterprise plan is for those with large requirements to manage devices remotely. This plan is $199 a year, and you get 1000 managed devices, 100 assigned devices, 10 channels, and high-speed data transfer.
Anyviewer has free plans for everyday users, which are enough for most users. It has 2 channels and 10 managed devices but lacks privacy mode, high-quality images, and high-quality file transfer.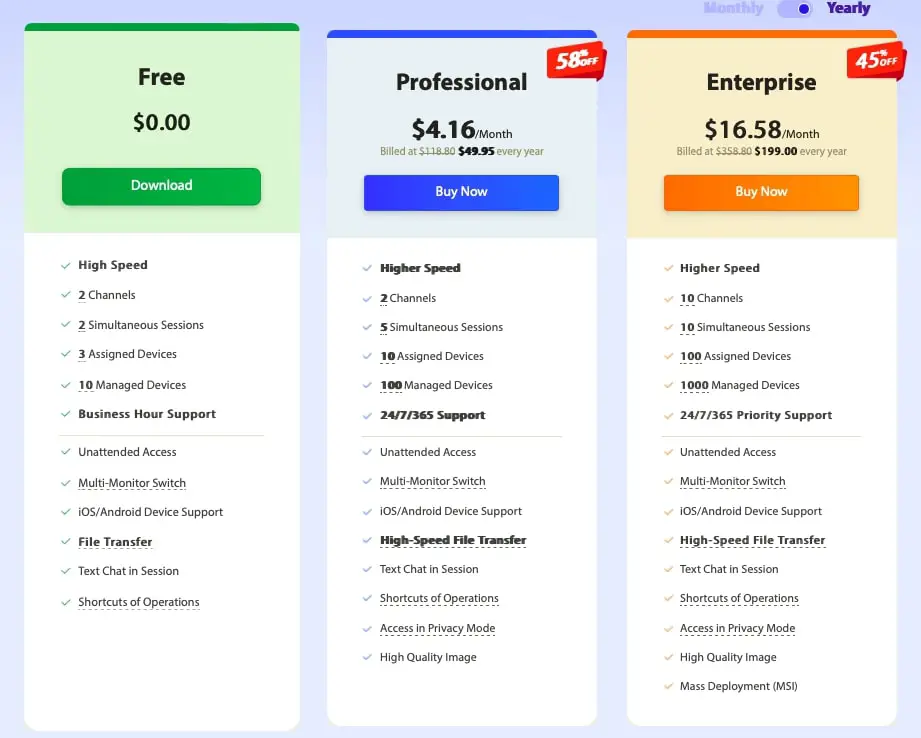 We are sorry that this post was not useful for you!
Let us improve this post!
Tell us how we can improve this post?