Multcloud is a web-based app that is used for cloud storage management. It's a centralized platform where multiple cloud platforms are present. It makes it easier to manage data from various cloud storage. Mult cloud has features like File transfer between clouds, cloud sync, cloud backup, and email migration. Multcloud was formed in 2012, and it's based in Hongkong.
Most of us use cloud storage to store our photos, files, and other data. Cloud storage is convenient; it's affordable and reliable.
But sometimes, you may have your data on various cloud storage. For example, my data is scattered around in various cloud storage platforms. Some of the data is in iCloud, some in google drive, and some in OneDrive. It gets hard for me sometimes to manage all the data. You may have also faced the same problem. Here MultCloud can help you.
MultCloud Features: Pros & Cons
Multcloud has various features like cloud sync, transfer, and email migration. Let's understand each feature one by one.
1. Cloud Transfer
This is the main feature for which Multcloud is known. The cloud transfer feature helps you transfer data from one cloud to another.
To transfer the data, you need to log in to cloud accounts. There are around 32 personal cloud platforms and three business cloud platforms that you can integrate into MultCloud.
I tried transferring a folder from Google Drive to Onedrive, and it worked pretty well. I tried sending that photo to Cloud Photos earlier, but it didn't get through. It gave me an error: "iCloud photos can only save albums (folders)." I then tried sending the folder, and it got failed again.
I thought maybe iCloud Drive wouldn't have any problem, but the Apple account got locked instead. Dealing with iCloud can be a little tricky, so watch out for that.
The cloud-to-cloud transfer has some features that can be useful while performing the task. There's the option to delete the source file once the task is complete. This feature can be used if you don't need the source file in the parent directory after the transfer.
There's also an option to turn on the email notification. The system will send you an email once the task is completed. Using this feature while transferring big files makes sense. How often will you check if the process has been completed, right? Instead, just on the email notification feature, you will get notified when all your files have been transferred.
2. Team Transfer
This feature is for those who use business cloud services like Onedrive for Business, dropbox business, and google workspace.
To start with the team transfer, you need to log in to your business cloud account as an admin; then, it's the same process as cloud transfer. You choose the directory from where you want to transfer the files to the target directory. 
Team transfer gets the same features, like deleting the source file after transfer and email notification.
3. Cloud To Cloud Sync
The cloud sync feature lets you sync various files to clouds. It's like Cloud transfer but with a little extra feature. Suppose you are in a situation where you need to sync a file from Google Drive to Dropbox, and from Dropbox, you want the file to sync back to Google Drive. This is where cloud sync comes in with modes like one-way transfer and two-way transfer. 
One-way transfer lets you sync your files to a destination folder. I transferred one of my folders from google drive to OneDrive. The folder data got synced to the directory I chose in one drive. This is a one-way transfer mode.
In two-way sync, the folder from both clouds gets synced to the directories you chose. For example, I chose a directory /Image containing a JPEG and a target directory /Music containing an MP3 file. When two-way sync is turned on, the JPEG from /Image is synced to /Music, and the MP3 file from /Music is synced to /Image. This is how two-way sync works.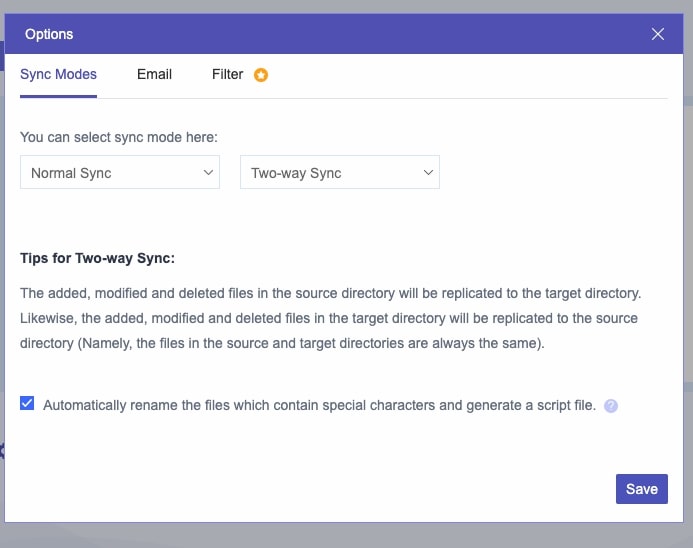 This cloud to cloud sync feature is best if you want to sync data from one cloud to another regularly. The best part is you can use the scheduling feature, also. In scheduling, you can run the sync task daily, weekly, and monthly. This feature will make your work a lot easier.
4. Email Migration
This feature can be used to migrate data from your email to a cloud. But it only supports Gmail as of now. It would have been better if other email providers were also on the platform. The files get saved to the cloud as PDFs.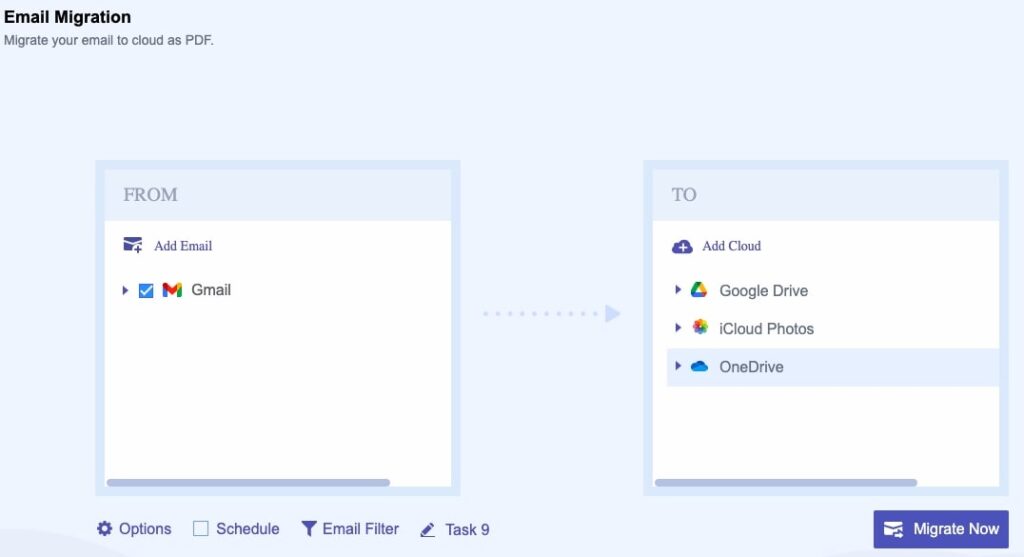 Pricing and Plans
Multcloud comes with Limited data and unlimited data plans. In the Limited data plan, you get 1200 GB/Year and 2400GB/Year for $59.99 and $99.98 annual payments, respectively.
In an unlimited data plan, you can get unlimited data traffic, which means you can sync and transfer as much data as you want. Unlimited data comes with annual payments of $119 and a one-time payment of $249.
If you don't have much data to transfer, then you can still use Multclud as they have a free plan also where you get 5GB per month data transfer which is sufficient for many users. But you won't get other features you get in other plans.
| | | |
| --- | --- | --- |
| Free Plan | $59.99/Year (Limited Plan) | $99.98/Year (Limited Plan) |
| 5GB free data traffic per month | 1200GB data traffic per year | 2400GB data traffic per year |
| No scheduling option | Scheduled transfer/sync/backup | Scheduled transfer/sync/backup |
We are sorry that this post was not useful for you!
Let us improve this post!
Tell us how we can improve this post?